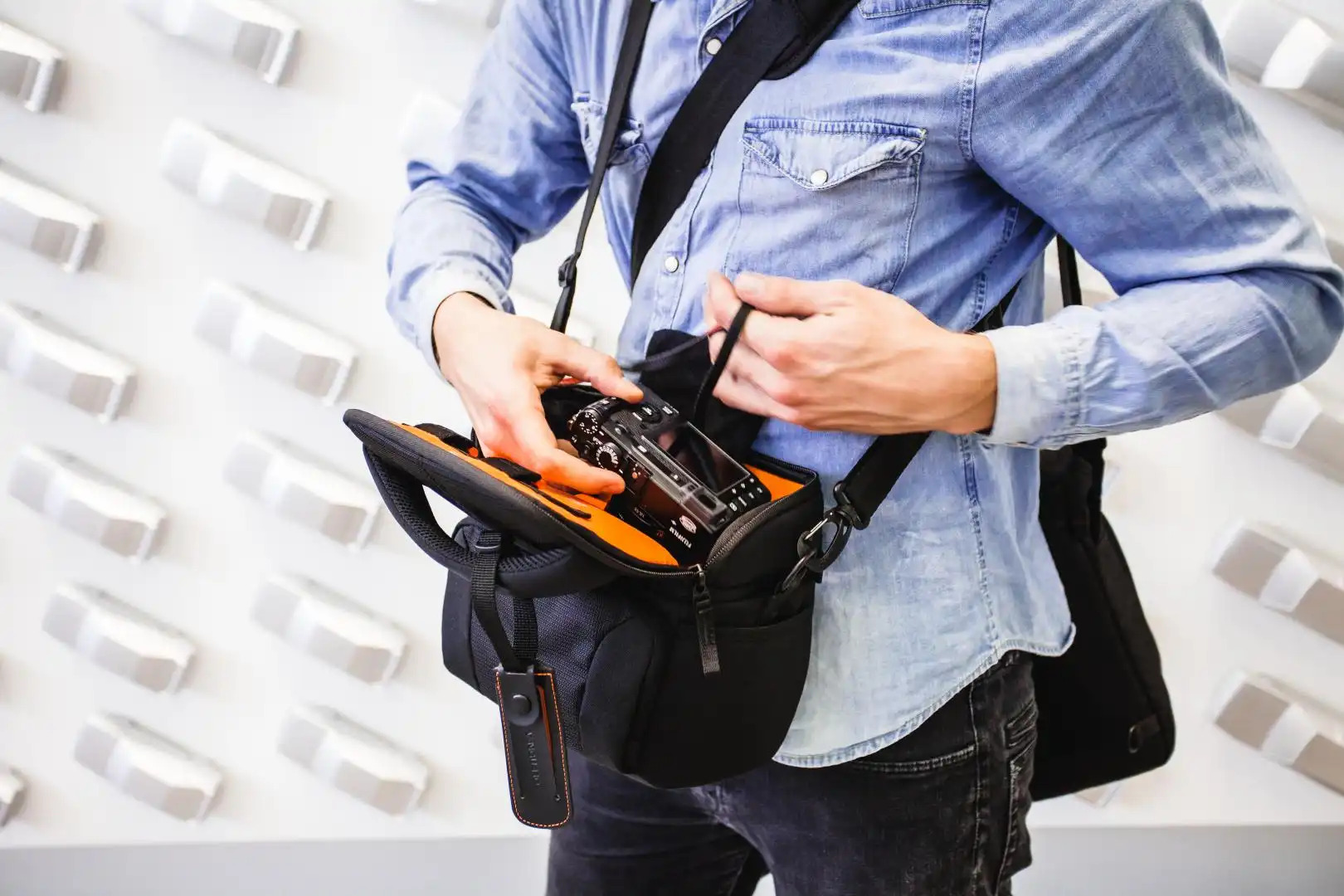 A lot of people say that we're in the golden age of photography, given the features and functions now available on cameras (and the sheer number of cameras that are available, too).
But I'd argue that we're in the golden age of camera bags as well…
That's because there's been a ton of innovation in camera bags that make them more usable, comfortable, and durable than ever before.
One segment of the camera bag market that seems to get ignored a little bit is the small bags, the ones that are built for one camera and one lens that make them an ideal solution for quick day trips.
I think there's two reasons for this.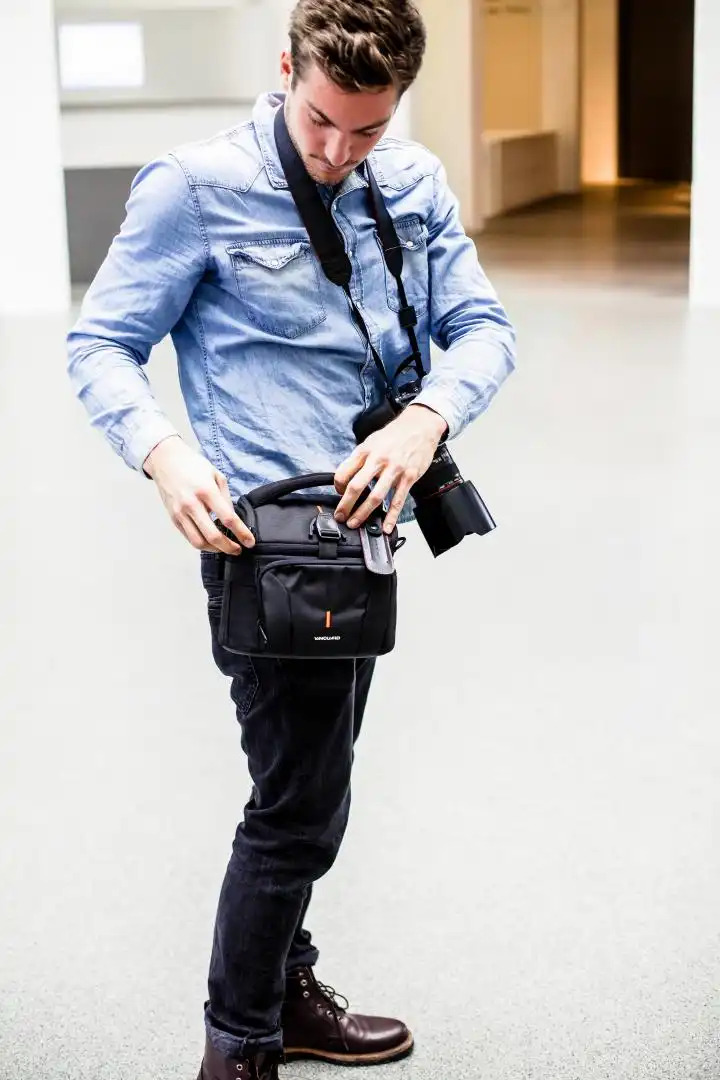 First, a lot of people seem to opt for larger bags and then just use the space they need for their shorter, lighter photography outings.
The problem with that is that you're not only carrying a big bag that adds weight to what you're carrying, but it can be hard to fish your gear out of a cavernous bag, too.
Second, there has been a lack of good day bags in the past.
That's not the case any longer, though.
Let's look at a few day bags for photographers from Vanguard that tick all the boxes for quick, lean-and-mean photography outings.
Up-Rise II 34 Sling Bag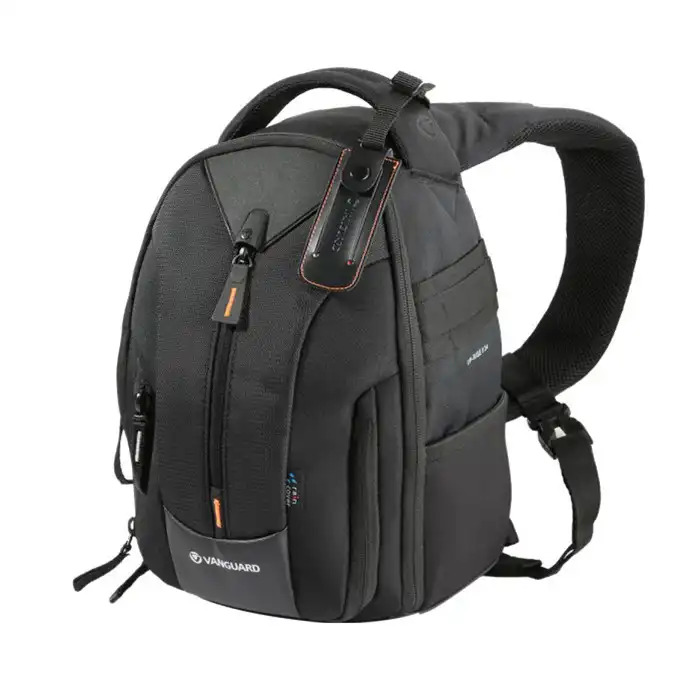 The great thing about a sling bag is that since it has just one strap, you can literally pull the bag from your back to your front for easy access to your camera. That's especially true when the bag has a quick-access side panel like the Up-Rise II 34.
But the Up-Rise II 34 has plenty of other features you'll like for a day trip.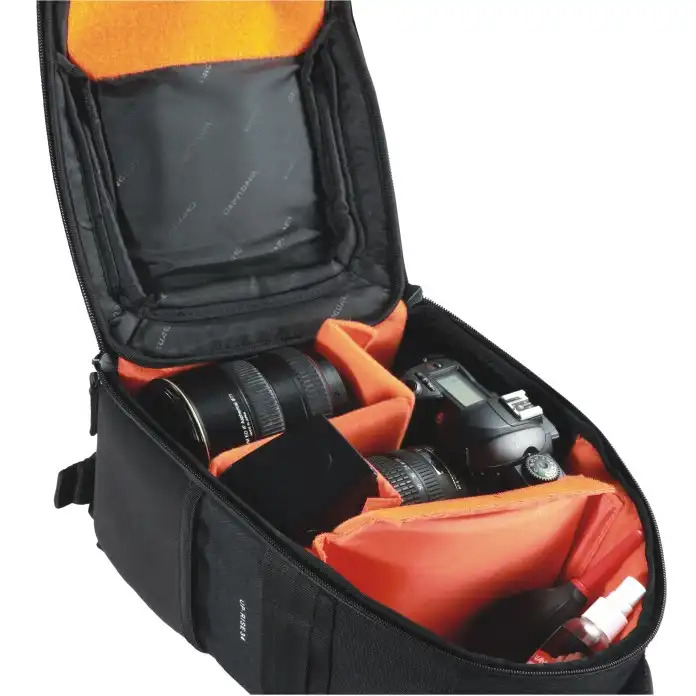 For starters, it accommodates a DSLR with a mid-range lens attached, so if you shoot mirrorless, you'll have plenty of room, too.
You can fit a flash, extra batteries, memory cards, and other accessories in the bag with ease with its dedicated pockets for keeping things neat and tidy.
That's due in part to a unique two-in-one expand and contract system that allows you to customize the interior space of the bag with a pull of a single zipper.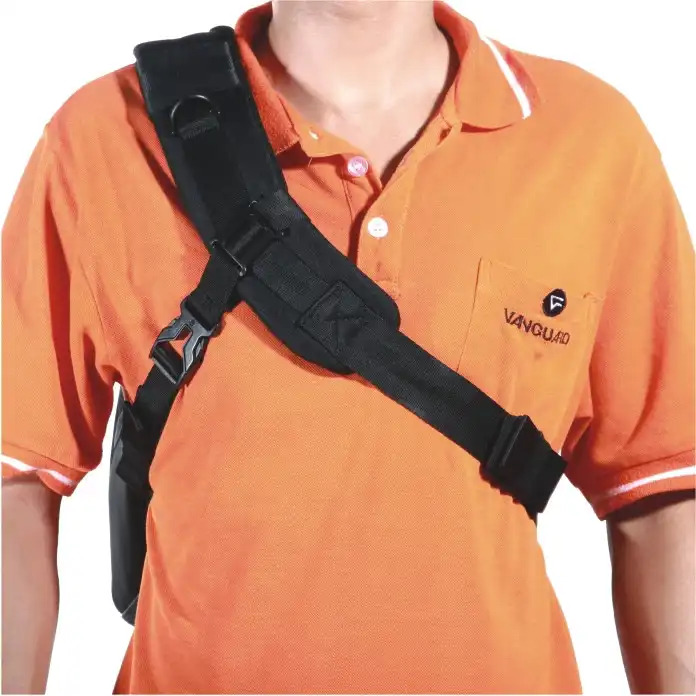 Carrying the bag is a breeze as well.
With an air system back and a heavily padded sling strap, you'll be able to shoot all day in total comfort.
You'll have peace of mind, too, because the bag is well-padded to protect your expensive gear from bumps along the way, and it has an integrated rain cover to keep things nice and dry.
Learn More:
The Trick to Avoiding Buyer's Remorse When Buying a Camera Bag
See the full specs on the Vanguard Up-Rise II 34 Sling Bag
Adaptor 15 Shoulder Bag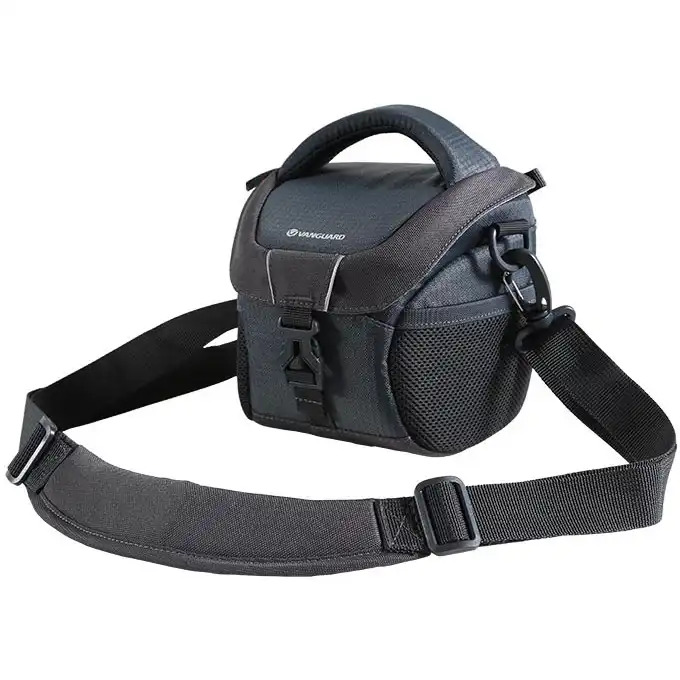 Shoulder bags like Vanguard's Adaptor 15 give you flexibility regarding how they're carried.
Like a sling bag, a shoulder bag offers easy access, but unlike a sling bag, a shoulder bag can be carried on your shoulder or across your chest, meaning you can adapt how you carry it depending on the situation or your needs.
The carrying experience is a comfortable one because the strap is heavily padded and features a tacky, non-stick pad to ensure the bag stays in place.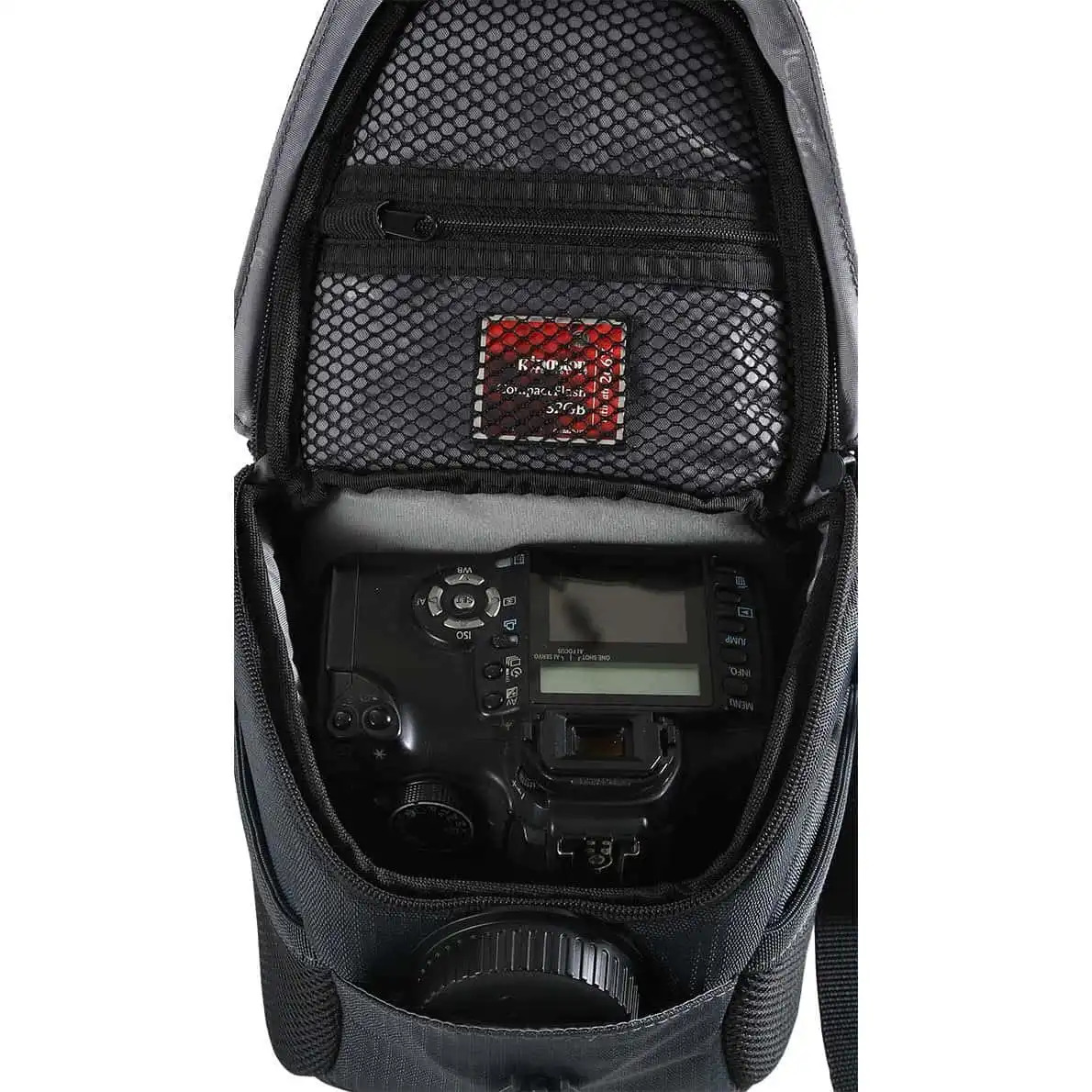 There's even two belt connectors so you can carry it on your hip, or if your day is really full of action and you need to stabilize the bag, you can wear it like a shoulder bag and use the belt connectors as an added measure of stability.
The Adaptor 15 was designed with easy access in mind as well.
No matter how you carry it, you can quickly get into the bag using its top access panel to grab your camera and get the shot.
Like the Up-Rise II 34 discussed above, the Adaptor 15 can safely accommodate a DSLR with lens attached, essential camera accessories, and even a mini tablet, too.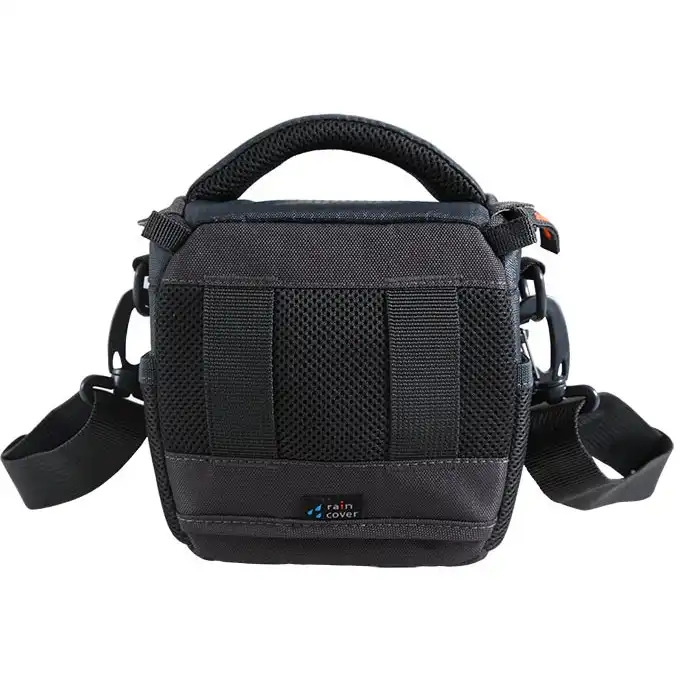 Vanguard has designed the interior of the bag smartly, with the inclusion of strategically placed pockets to keep small items like your phone, extra batteries, cables, and memory cards organized and out of the way.
In other words, the Adaptor 15 will carry everything you need in a small and tidy package that keeps your gear safe and dry and keeps you comfortable at the same time.
Learn More:
The Best Camera Bags for Under $100 for 2017
See the full specs on the Vanguard Adaptor 15 Shoulder Bag
Up-Rise II 14Z Holster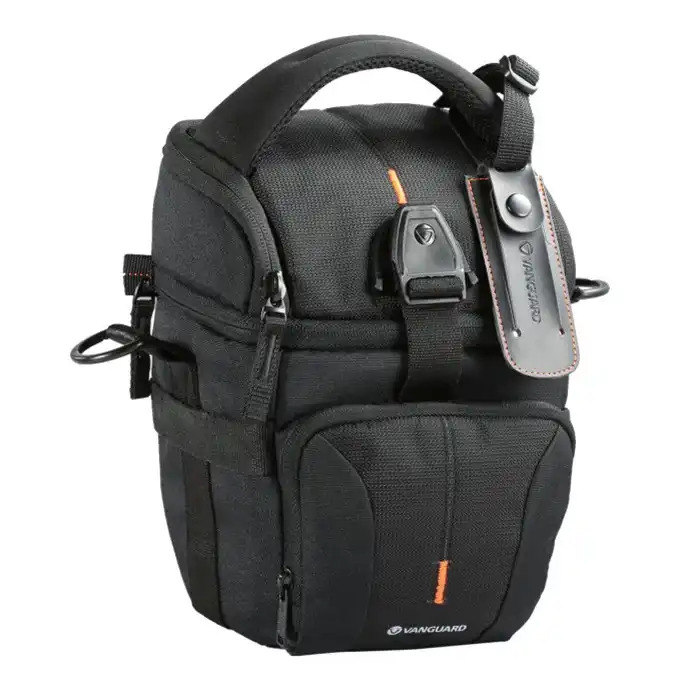 Like the bags described above, the Up-Rise II 14Z will easily carry a DSLR with a standard kit lens attached to it.
But also like the previous bags, this one has a quick expansion system so that you can add more interior space with a quick motion of a single zipper.
That means that even though this bag is extremely compact, you can still fit quite a bit of stuff inside.
In fact, when expanded, it'll accommodate a longer focal length lens so you don't have to carry a bigger bag to carry it.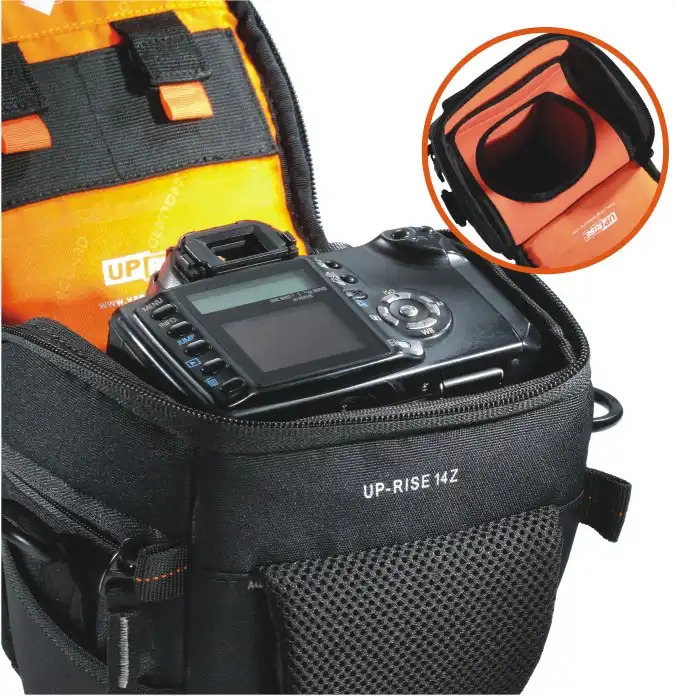 Typical of Vanguard design, the Up-Rise II 14Z was built for ease of use. The top flap on the bag opens away from you, that way you have quick access to the bag's contents without having the top flap blocking your view.
There are strategically placed pockets on the inside and the outside of the bag, so you're sure to always have a spot for your photography essentials. There's even side strap loops for connecting an additional pouch if you need to take a few more necessities on your adventure.
You can carry the bag in a number of ways, too: over your shoulder, across your chest or on the hip.
Regardless of how you carry it, true to Vanguard's form, this bag (and the others described above) is built to last with top-notch materials and thoughtful design.
Learn More:
Camera Gear Recommendations for Budget-Minded Buyers
See the full specs on the Vanguard Up-Rise II 14Z