I know what you're thinking…
Photography is an expensive endeavor, and there's no way that there's fun, exciting gifts for photographers under $50.
But you're wrong!
I found a TON of photography gifts that meet the $50 requirement and are the kind of gifts you'd be proud to give the photographer on your holiday list this year.
Here's ten of the best options…
Vanguard ALTA Action 80 Tripod Bag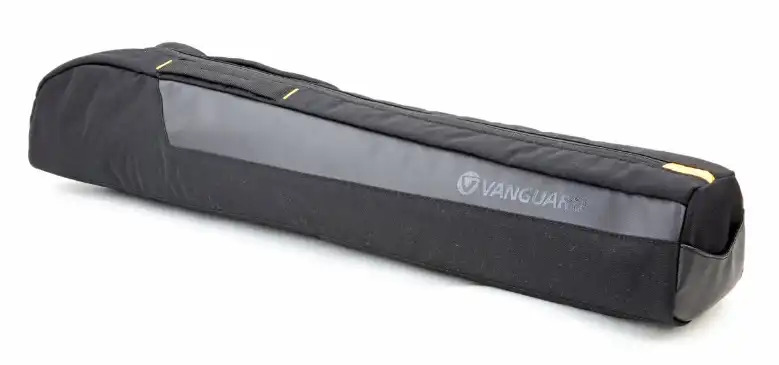 The great thing about the ALTA Action 80 Tripod Bag is that it's an ideal gift for a photographer that's already bought into the Vanguard system of tripods.
This bag is designed to fit Vanguard's highly-regarded ALTA Pro tripod and head combinations and offers photographers easy access with an extra wide top opening. The interior of the bag is both padded and brightly colored, so the tripod is both secure and easy to see.
The ALTA Action 80 can be carried over the shoulder or as a two-way sling across the chest. It's got a bottom grip for easy maneuvering when loading and unloading from the car as well.
Combined with a waterproof material on the bottom to keep the inside dry, and the ALTA LINK connector that allows for adding the bag to other ALTA backpacks, and you have the makings of a versatile, useful, and affordable gift this holiday season!
Learn more about the Vanguard ALTA Action 80 Tripod Bag.
Bumblejax Acrylic Photo Blocks
I think it's safe to say that you've probably got someone on your holiday shopping list that is a fan of photography. I think it's even more likely that you need to buy a gift for someone that uses their phone to take photos.
Now you have the perfect gift for one such person with a Bumblejax Acrylic Photo Block.
These one-inch-thick blocks are ideal for creating artwork that can either stand on its own or hang on the wall using aluminum hanging rails, as seen below.
And with a diamond-polished finish that gives the printed image a vibrant, colorful, three-dimensional look, it's a gift that's sure to wow.
That's because the see-through acrylic edges allow more light to refract within the acrylic, creating more illumination on the image for a truly stunning visual effect.
What's more, Bumblejax face-mounts the image onto the acrylic, using high-grade lustre or metallic paper that offers a superior result with a wider color gamut than other types of printing.
And Bumblejax can even create these stunning acrylic photo blocks using pictures taken with an iPhone. Specifically, their panoramic acrylic photo block (shown in the video above) is the perfect way to display images captured with the iPhone's panoramic feature.
That means that once you give your loved one the gift of a photo block, they can hop on their phone, upload their favorite image, and get an awesome gift (or you can do it ahead of time – either way!).
With 7×7 and 8×6 blocks starting at under $50 with the coupon code PTBJAX20, these are a great buy. No wonder Bumblejax has over 2,000 rave reviews!
Learn more about the Bumblejax Acrylic Photo Blocks.
Sew Trendy Evelyn Floral Crown
Lori Dorman Photography
A wonderful gift for the holidays that has a ton of visual appeal but won't set you back a lot of money is the Evelyn Floral Crown pictured above.
These crowns are the perfect complement to any wardrobe, whether your loved one is getting married, having her photo made, hosting a party, or just about any other special occasion.
The crown has a gorgeous rose perfectly placed on the crown and is surrounded by intricate florals that are beautifully arranged on a grapevine. The crown pictured above is in ivory with pink accents, but the crown can be ordered in a wide variety of other colors, including yellow, lavender, pink, red, aqua, coral, and many more.
The types of flowers that are used might vary slightly depending on their seasonal availability, but you can rest assured that no matter what types of flowers that are used, the Evelyn Floral Crown will be something that makes her heart sing this holiday season!
Learn more about the Sew Trendy Evelyn Floral Crown.
Vixen Nature Eye Telescope
Just about everyone has a child on their holiday shopping list…
Don't settle for the same old toys this year. For a unique, memorable, and educational gift idea, you might consider the Vixen Nature Eye Telescope from MrStarGuy.
The compact, lightweight design of the Vixen Nature Eye means it can be easily transported and taken on outdoor adventures without having mom or dad lug around a ton of heavy gear. But don't confuse its compact, lightweight design for something shabby – the Nature Eye is durable and built to stand the test of time.
It's easy to setup, too. The telescope images are right side up for easy viewing. The tabletop tripod is both sturdy and sets up in a matter of seconds.
This little telescope comes with all the needed accessories, too – the aforementioned tripod, a 10mm eyepiece, a 2x Barlow Lens, a peep sight for finding objects, and a 45-degree Click Stop Diagonal that keeps objects in view.
All that for just $39.95!
Learn more about the MrStarGuy Vixen Nature Eye Telescope.
CanvasHQ 8×10 Canvas Print
An 8×10 canvas print is just the right size for showcasing a photo and giving it as a gift for the holidays.
Whether you print a family portrait, a landscape, or something in between, Canvas is a gorgeous medium that brings your images to life while giving them a bit of texture for a more interesting viewing experience.
The CanvasHQ 8×10 print comes in a 1.5-inch thickness, meaning it will display beautifully on your loved one's wall with a bit of depth that separates the image from the surrounding wall surface.
Something else that makes a canvas of this size stand out is vibrant, beautiful colors. Since CanvasHQ uses six colors and an optimizer, you can be sure that the colors in the image stay true to form and display as they should on the canvas surface.
Why get your loved one just another gift this year? Give them the gift of a beautiful piece of art that's personalized and custom!
Learn more about CanvasHQ 8×10 Prints.
4V Design LAZO Wrist Strap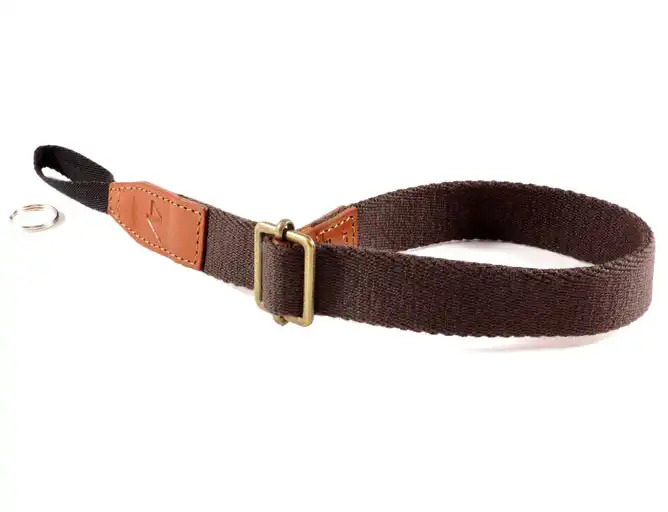 Give the gift of form and function this holiday season with a LAZO wrist strap from 4V Design.
As you can see in the image above, this thing is gorgeously designed and handcrafted with accents made of scented Vegetable Tanned Tuscany Leather with hand-painted edges.
That means it's a gift that has a custom look but without breaking the bank!
But it's not just a pretty accessory – it's functional, too.
It's got a camera connection made of high-strength polyamide military-standard webbing and can be tightened on the wrist for maximum safety.
The LAZO has an adjustable length to accommodate all sizes of wrists and a soft cotton 20mm webbing for a comfortable carrying experience.
Ideal for carrying everything from a small mirrorless camera to a medium format rig, the LAZO hand strap is certainly one of the best photography gifts under $50!
Learn more about the 4V Design LAZO Hand Strap.
Holdfast Leather Safety Lanyard
If you have a photographer on your list that's already using the incredible Holdfast MoneyMaker dual camera strap system, you can add to the functionality of the MoneyMaker by giving the gift of a Holdfast Leather Safety Lanyard.
The lanyards shown above work as a replacement for the Safety Catch option on the MoneyMaker.
These finely detailed and handmade lanyards are ideal for photographers to carry their keys, a water bottle, or other small items.
With an adjustable length up to 12.5-inches, it's versatile for use for just about any purpose.
And like everything else Holdfast makes, this lanyard is simple, beautiful, durable, and highly useful.
Learn more about the Holdfast Leather Safety Lanyard.
MPB 32GB Class 10 SDHC Memory Card
All those photos that your loved one takes need to be stored somewhere…
A Class 10 memory card is an ideal gift because it offers impressive speed that allows for quick storage and review of the photos that are taken.
In fact, this card has read speeds of up to 70MB per second, so taking a look at the images on the card can happen in a flash.
And with 32GB of storage space, the photographer in your life can take hundreds of photos without worry of filling up the card.
Learn more about the MPB 32GB Class 10 SDHC Memory Card.
Artbeat Studios 9×12 HD Metal Print
For a gift that wows when it's opened, give the gift of an HD Metal Print this holiday season from Artbeat Studios.
A 9×12 print is a perfect size for hanging on the wall when there isn't a ton of space, but a high-impact print is wanted.
And you don't get much more high impact than HD Metal!
These prints have breathtaking color because Artbeat Studios takes care to color check the images on color calibrated monitors.
These prints are also heat infused into a specially coated aluminum sheet for incredible durability. In fact, these HD Metal Prints are resistant to UV rays, scratches, and water.
You can even customize the look of the print by choosing different surfaces, finishes, mounting styles, and so on.
In other words, this is one heck of a gift for less than $50!
Learn more about Artbeat Studios 9×12 HD Metal Prints.
Sirui Slinglite 8 Camera Bag
If the photographer on your list is in need of a new camera bag, the Sirui Slinglite 8 is a perfect choice.
Not only is this bag super lightweight, but it's also water repellent thanks to its 225D two-tone ripstop cover.
It's got a handy front zipper pocket for small items and side pockets to accommodate small water bottles.
The bag has YKK RC Zippers that won't scratch your gear, and with a removable insert, the interior of the bag is customizable to your needs.
The Slinglite 8 will accommodate a mirrorless camera or small DSLR system, up to three lenses, and an 8-inch tablet.
It's also got a six-year warranty, so you're sure you get a quality product that's backed by Sirui.
Learn more about the Sirui Slinglite 8 Camera Bag.