When it comes to photography accessories, there's nothing as valuable as a tripod.
Sure, filters are great, but at the end of the day, you can emulate most of their effects in post-processing.
Camera remotes are nice too, but by and large, you can get away with your camera's self-timers.
Speedlights and reflectors can be beneficial as well, but if you shoot in the morning and evening hours, you can capitalize on beautiful Golden Hour lighting.
What's difficult to do, though, is find a good substitute for a tripod.
You can set your camera on the hood of your car, but that might risk your camera falling off or scratching the paint.
You can rest your camera on a bean bag as well, but that's not as versatile a solution as a tripod.
With that in mind, here's my picks for the best tripods of the year.
Best Tripod Alternative – HandlePod
Though HandlePod isn't technically a tripod, it still serves the same purpose.
In fact, it might be even more versatile than a tripod given that you can use it in a myriad of ways.

For starters, you can set it up as a tabletop quadpod, with its four rubber feet serving to give it a sturdy, stable base for your camera to take tack-sharp photos.
You can also fold the handle down 90-degrees, press its four feet against something strong like a wall, and you've got another means of steadying your camera.
Fold the handle down to 180-degrees, and you've got an ideal setup for taking photos and videos with a stabilizing handle that helps you get cleaner shots.
But my favorite feature of HandlePod is the fact that you can use it hands-free.
With the integrated elastic cord, you can lash HandlePod to a sturdy object – like the post in the images above – and give your camera the support it needs.
Likewise, being able to lash it to virtually any object means you can take photos from interesting perspectives to increase the visual appeal of your images.
Better still, HandlePod is a tiny thing, and when folded up, it can easily be transported in your pocket. That makes it an ideal gadget for traveling.
With three-axis rotation for easy camera positioning, a slotted camera mount to accommodate various sizes of cameras, and a great price, it's hard to go wrong with HandlePod!
Learn More:

Get the Specs and Pricing on HandlePod
12 Things Photographers Shouldn't Leave at Home
Best Small Tripod
By "small," I refer to a tripod that's easily portable and can support a load up to nine pounds.
In that range, the Vanguard VEO 2 204AB is one of the best you can buy.
That's because this tripod is lightweight – it's made of aircraft-grade aluminum and magnesium – coming in at under three pounds.
It's got 4-section legs that give it versatility with regard to height, yet because they're 20mm wide, they give your camera plenty of support to get a sharp photo.
Better still, you can quickly and easily set up this tripod thanks to a cutting-edge center column that allows you to snap your fingers and twist each leg to lock it in place.
The VEO 2 204AB has another trick up its sleeve, too.
It gives you three different angles to position the legs, that way you can keep the tripod level even if the ground underneath it is not.
It's angled rubber feet help give it strong footing as well.
This tripod even comes with a ball head and a bag to carry it in, making it an even better value.
If you want a feature-packed, full-sized tripod that won't break the bank, give this one a long, hard look!
Learn More:
Get the Specs and Pricing on the Vanguard VEO 2 204AB Tripod
Camera Gear Recommendations for Budget-Minded Buyers
Best Mid-Range Tripod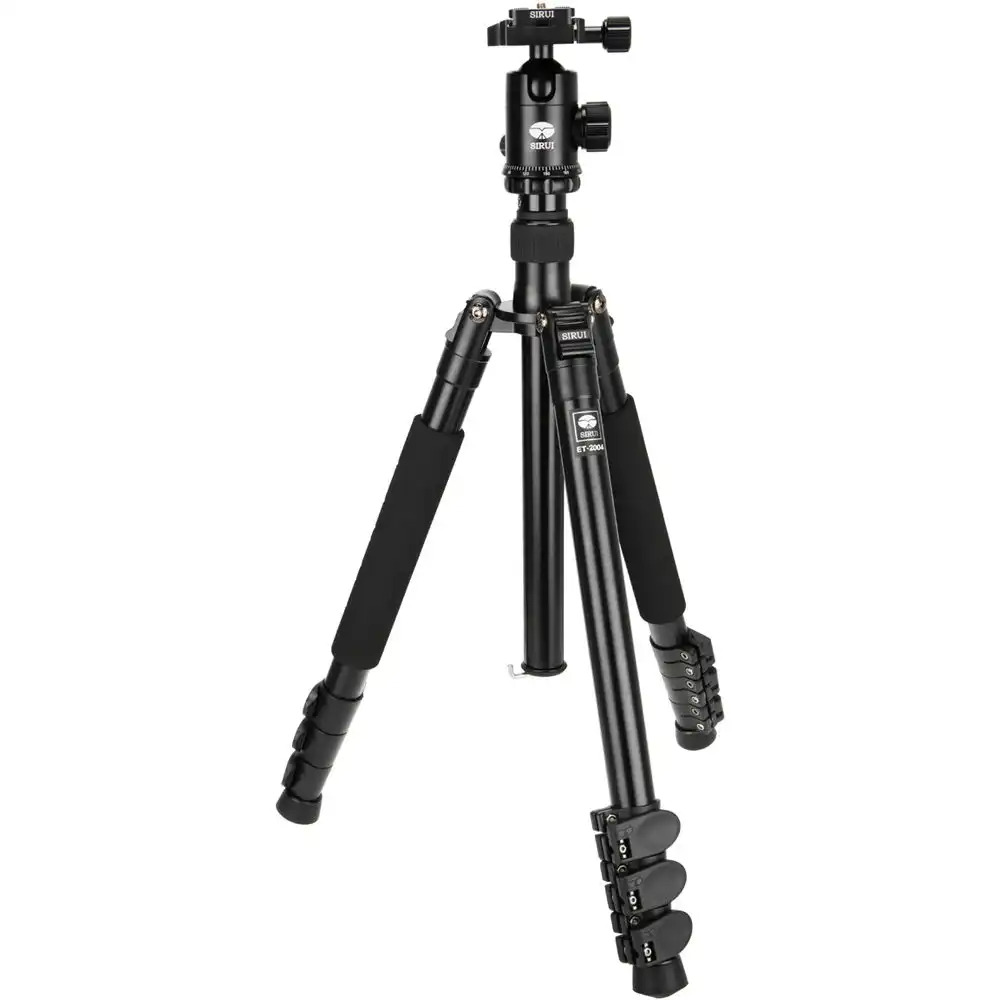 If you need a tripod with a larger load capacity, you might look for something like the Sirui ET-2004 Tripod Kit, which can support up to 26.5 pounds of gear.
But don't think that the big load capacity means this is an unwieldy tripod – it still only weighs 3.5 pounds.
What's more, it has flip-lock legs for quick setup and breakdown. Each leg has an automatic leg angle locking mechanism too.
The legs also fold up to 180-degrees for a compact form factor when carrying the tripod.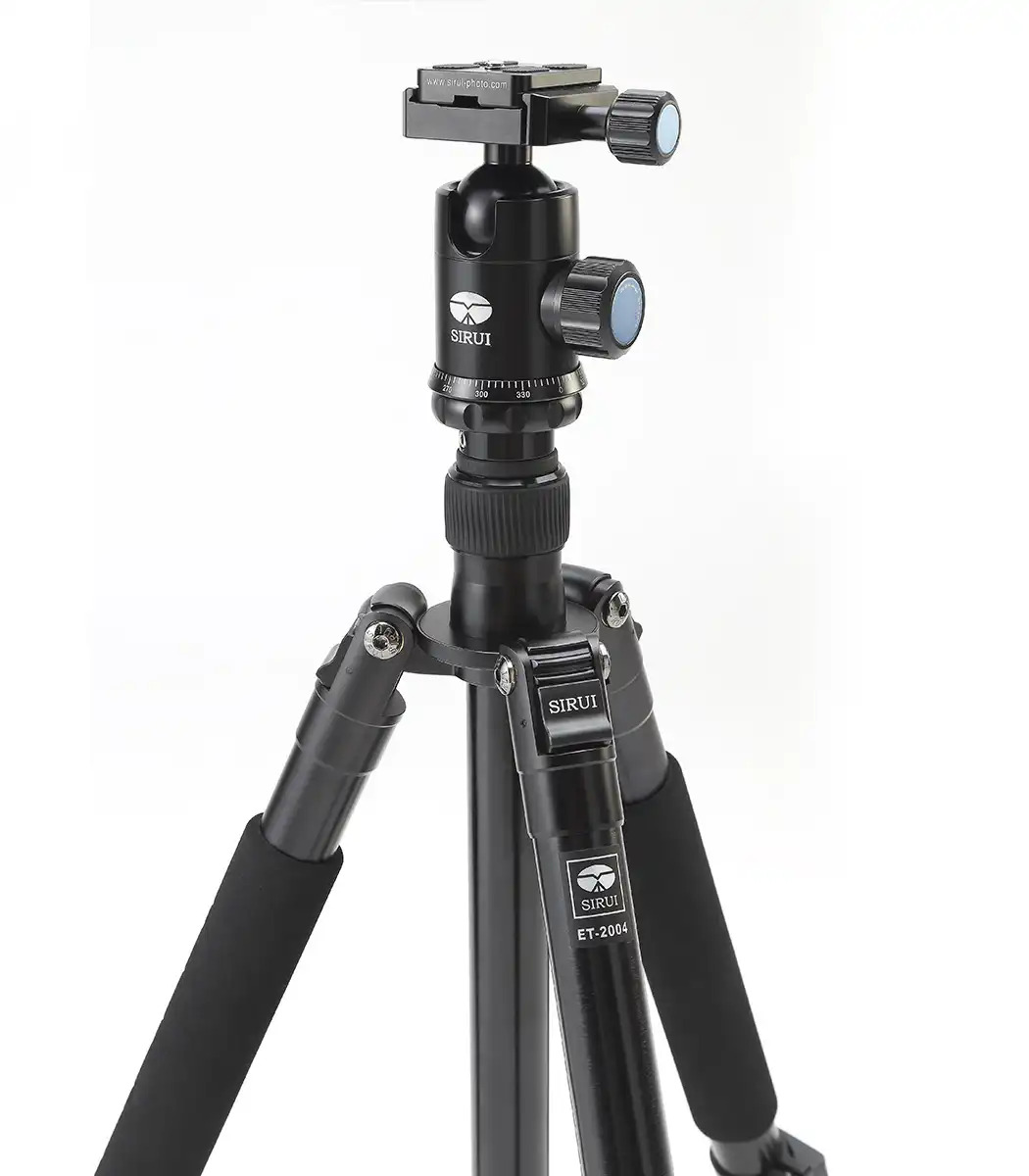 To assist you in getting better shots, the Sirui ET-2004 Kit has a center column that can be inverted so you can get interesting low-angle shots.
Each foot has a retractable metal spike as well, giving it the ultimate in stability on uneven terrain when shooting outdoors. There's even a built-in level to ensure your horizons are nice and straight.

This tripod kit comes with a Sirui E-20 Ball Head, which has separate adjustment knobs to pan the head and for locking it down.
In other words, this tripod is an ideal companion for landscape and nature photographers that want a solid tripod with excellent features, but again, without spending a ton of money.
Learn More:
Get the Specs and Pricing on the Sirui ET-2004 Tripod Kit
A Beginner's Guide to Buying Your First Tripod
Best High-End Tripods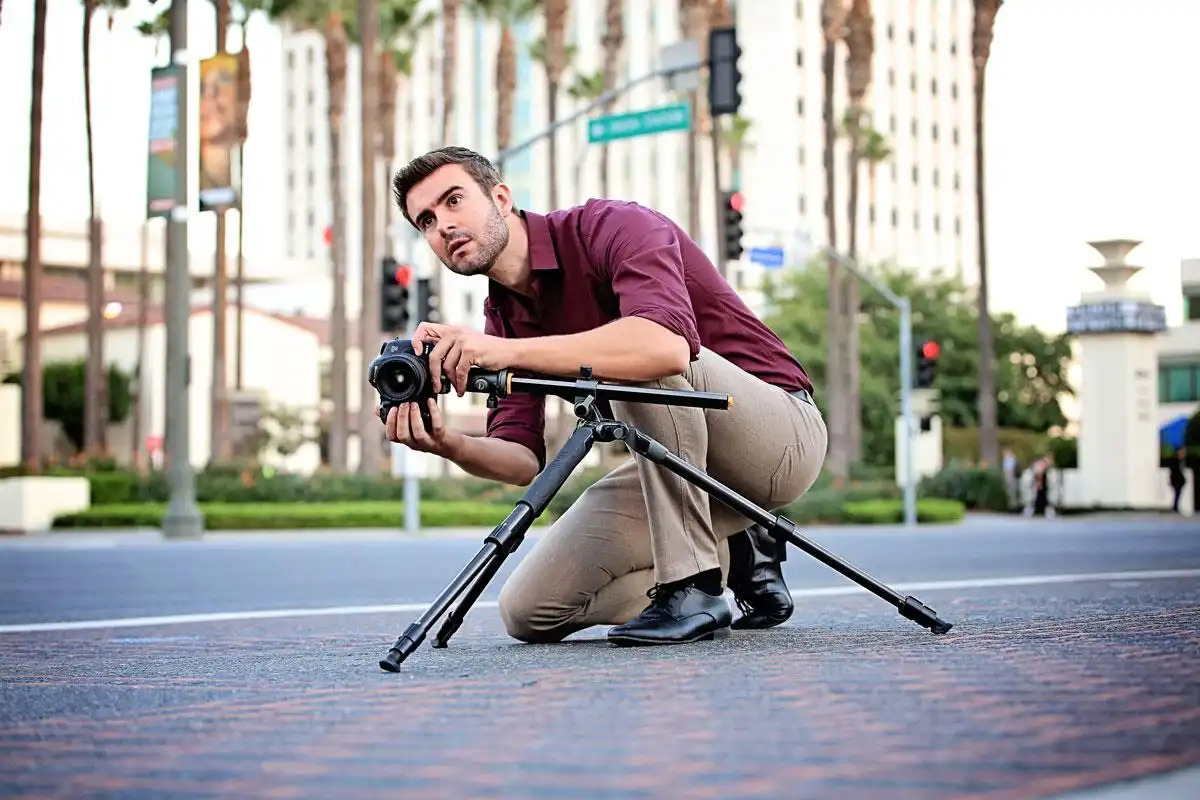 There are a couple of excellent options if you need a tripod with the ultimate in features and flexibility…
The first is the Vanguard Alta Pro 2+ 263CT shown above.
As you can see, it has a Multi-Angle Center Column that gives you limitless possibilities for the shooting angle.
That's further helped by 3-section legs that have 4 positioning angles that range from 20-degrees to 80-degrees.
It's also easy to set up and rock solid with a twist-lock system for each leg.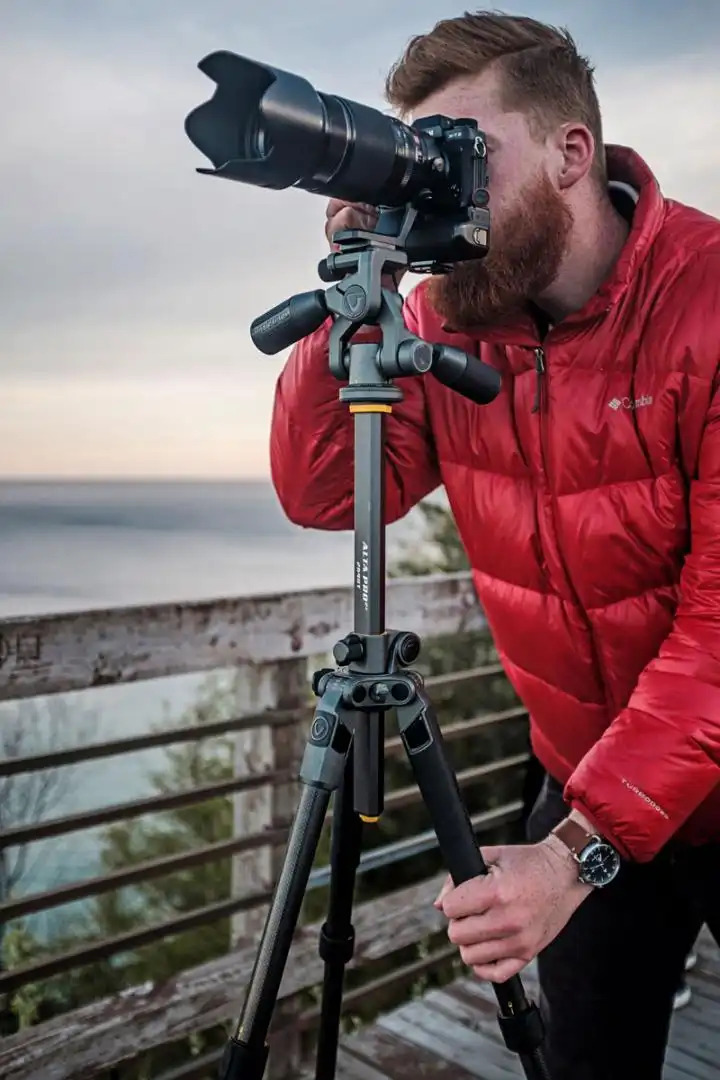 Since it's made of carbon fiber, the Alta Pro 2+ 263CT is lightweight, easy to transport, and can still support up to 15.5 pounds of gear.
What's more, the hexagonal center column means that even when you need a little extra height, the center column won't wobble or waver, giving you the sturdy support you need to get the sharpest photos.
Add in an integrated bubble level, a canopy suspension loop to add counterbalance weights, angled rubber feet for extra stability, and the Alta Link system that allows you to connect reflectors, arms, and other accessories with ease, and you've got a recipe for one heck of a tripod system!
Learn More:
Get the Specs and Pricing on the Vanguard Alta Pro 2+ 263CT
5 Things You Need to Know About Tripods Before You Buy One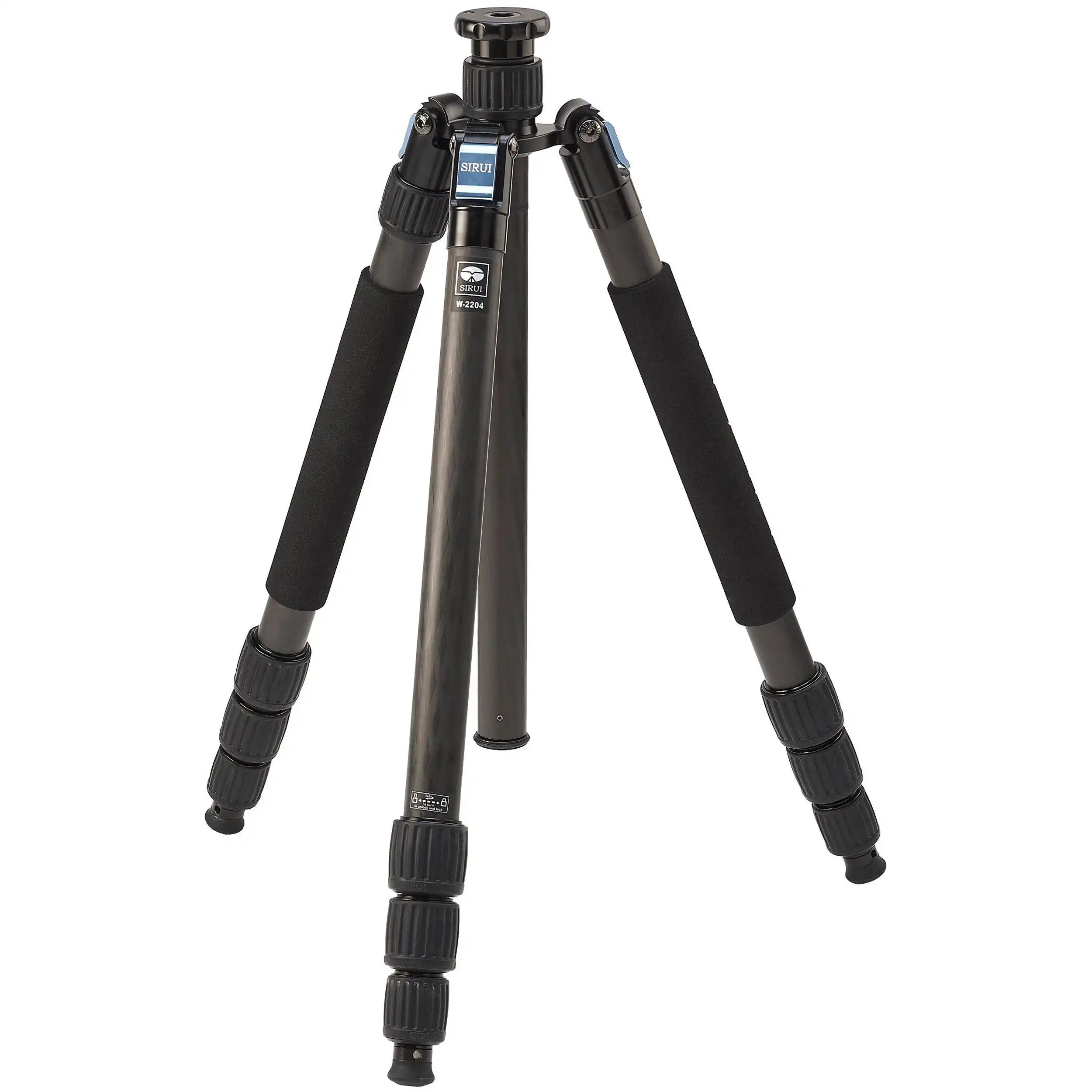 Another great option for a top-end tripod is the Sirui W-2204 Tripod shown above.
This rig isn't just lightweight and durable thanks to its carbon fiber construction, but it's also waterproof. That means no gunk or grime getting into the tripod's legs!
Speaking of the legs, each one has four sections with easy-to-use adjustable twist locks that allow for quick setup for fast shots.
This tripod also has a removable leg that can be attached directly to the center column for use as a monopod, too.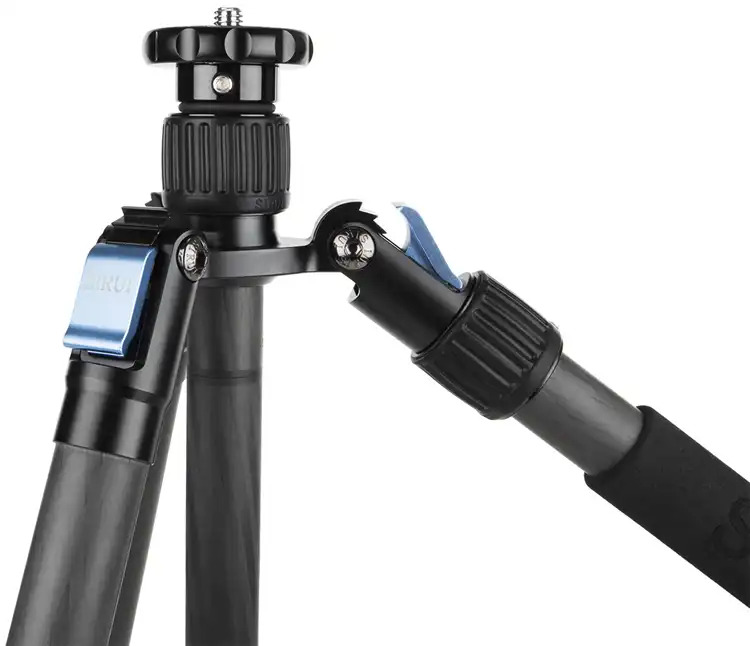 There's other handy features you'd expect from a high-end tripod as well…
There's a built-in bubble level, three leg angle positions for accommodating uneven terrain, and slip-resistant rubber feet with stainless steel spikes for added stability.
The legs fold up to 180-degrees for easier carrying, and the split center column allows you to switch from a standard-height column to a short one quickly and easily.
It even comes with a center column hook for adding weight to act as ballast, a custom padded carrying case, and a monopod kit.
Learn More:
Get the Specs and Pricing on the Sirui W-2204 Tripod
9 Items Any Photographer Would Want in Their Camera Bag